A fibre solutions provider with a difference
Technology has never moved so quickly - now is not the time to maintain the status quo.
It's an era to be fearless. To ask more of our solutions and the products that underpin them.
As a global provider of optical fibre termination and connectivity solutions, we're here to change the conversation. To help your business consider what you could be doing more efficiently or sustainably. Our mandate on every project — be it a large-scale telecommunications solution or a data centre install — is to improve each time. All while ensuring your business gets the uplift it needs from our products and services.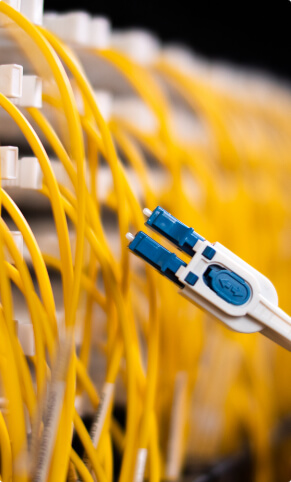 At Codecom, we don't just do things the traditional way because "that's how they've always been done".
Things move too fast in this industry. You need products than can keep up with ever-growing digital demands.  We offer design innovation in all our fibre termination and connectivity solutions. In addition, our unique manufacturing capabilities put you close to the source. So, if an existing product doesn't fit, we'll engineer a solution that does. Either way, you can count on creative problem solving from our team.
In an industry where reputation is your trademark, we're investing everything we have in ours.
We believe that enduring businesses prioritise relationships over a quick dollar. We may be renowned as a fibre termination and connectivity solutions company with a fresh outlook, but we've been servicing businesses across Asia-Pacific for 20 years. It's no accident that telecommunications, data centre and content providers around the world rely on us. Our reputation is built on industry know-how, dynamic project management and product innovation.
Fast lead times on all products is a calling card of our brand. We always deliver within the timeframes we promise.
Beyond this, however, is a company-wide commitment to follow through on every promise, and to set the industry standard for support. You'll never see us approach projects with a "get in, get out" attitude. What you will find is a professional, available team who come to life when things go wrong. We won't duck for cover at the first hurdle, because we prefer to solve challenges head on.
"In my role at Equinix, my team is tasked with selecting the components that comprise our global connectivity model. 
We first heard about Codecom from our Australian team members. They talked about a company that listened to their needs; took quick action to pursue new ideas, and were ethical and deliberate in how they conducted business with Equinix. Codecom has since exceeded many of the accolades my team had said about them.  Codecom has proven themselves to be a professional company, surrounded by technical experts, with a keen eye towards building sustainable, high-quality products that service our industry."
Pulse Data Centre is a new state-of-the-art facility offering scalability, sustainability and security.